9th December 2017 was a day I will always remember. It was the day that Marriage Equality was finally passed in Australia. I cried tears of joy, hugged my many gay friends and celebrated with them.
As long as I have been a celebrant, I have always been a very vocal supporter or same sex marriage – or marriage as I like to call it – love is love right?
So in 2018 I was really fortunate to be given the opportunity to travel to the annual Gay and Lesbian Mardi Gras, to take part with 40 or so other like-minded celebrants to celebrate our commitment to celebrate love and equality.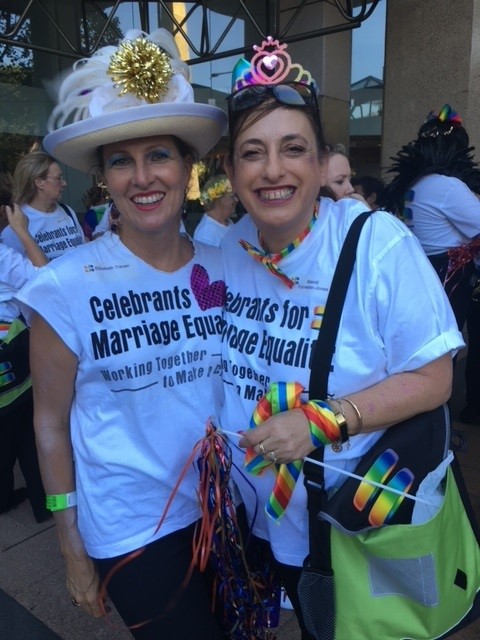 For me, attending the Gay and Lesbian Mardi Gras isn't just a matter of participating in a lively event; it's a expressing my support for the LGBTQ+ community and an affirmation that everyone deserves to love and be loved without judgment.
I travelled down with a few other QLD based celebrants and met up with the others, some of whom has done an incredible job with all the supporting collateral. We all had t-shirts and there was a banner-clad van to lead us. We wore all the glam make-up, glitter was abundant as were all the colours of the rainbow.  In a state of excitement we joined the starting point of the parade.
When it was our turn to move into the parade itself, we were following some amazingly decorated and flamboyant floats, and we thought we would be very boring in comparison. I was wrong! When everyone realised who we were and what we said on our t-shirts, we go the hugest cheers, high fives and hugs. It was clear everyone really appreciate us as allies and our support.
All too soon it came to an end, but as we wandered the streets of Sydney afterwards, the celebrations continued long into the night. All the shops had rainbow displays, bakeries has rainbow coloured icing on the cakes, even the ATMs took on a new lease of life as GayTMs.
It was absolutely fabulous to be a part of such an amazing spectacle, knowing now I was free to marry people regardless of gender.
The very first wedding I did after equality became legal was for 2 really old friends. One of them, who is a good friend who I watch State of Origin with and have done for 22 years, said she couldn't think of anyone else to marry them. They finally got married in their house, amidst buckets of torrential rain, on the 25th anniversary of being together. It was really moving and yes, I cried! (after the ceremony was over).
Love is love