Congratulations! You have met the love of your life and now want to make if official, proclaim it to the world and have a party right? Awesome! My name is Mandi and I am an accredited and fully trained Marriage Celebrant (have been since 2006) that loves ALL weddings, love is love right?
Are you stressed? Too much to think about? Regardless of how many times you have been there, all weddings are special, and take some planning. All of a sudden you begin to realise just how much is involved. This wedding is an investment for you, and just like you would with any investment, you need an expert that guides you in the right direction. That is where I fit in!
Maybe this is your second chance at love, you have had the big white wedding, and now you are looking for an updated version, a new, improved one! Having found love a second time around myself, I really appreciate the subtle differences that may be required!
The fact that I also run a travel company specialising in romance travel and destination weddings means I am really in love with others being in love, being part of that day and all the fun that goes with that. I have also been an event manager for more years than I can remember, so am connected and creative too! This can be a real asset in helping to ensure that your day is everything you ever dreamed it would be.
I promise that, as your celebrant, I will listen carefully to you, and work with you to create a one-of-a-kind ceremony that genuinely reflects who you are as individuals and as a couple – a warm-hearted ceremony that sets the tone for your celebration and for your marriage.
Both leading up to, and on the big day, I will be there for you every step of the way. I only ever do one wedding a day, so I can be totally present for you as you give your hearts to each other.
I celebrate diversity and enjoy multicultural and ceremonies of all kinds. I also help celebrate other events, such as naming ceremonies, renewal of vows, commitment ceremonies and all of life's celebrations.
What do I enjoy about being a celebrant? The enjoyment, the celebration, and that pure joy at the moment when you change peoples' lives irrevocably! The kiss!
Whether you plan to elope, have a simple ceremony, an elaborate event or a destination wedding, the possibilities are limitless.
Big or small, whether you plan to elope, have a simple ceremony, formal or casual or a destination wedding (my specialty!), the possibilities are limitless.
So if you think I may the right person to create your amazing wedding or celebration, get in contact with me contact me and we can have a chat. I look forward to talking to you
If you would like to know more about what is involved – click below!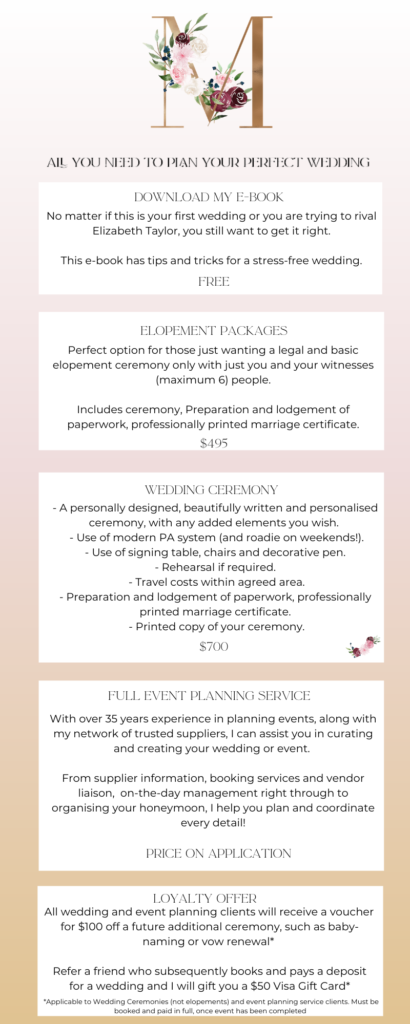 No matter if this is your 1st wedding or your 7th, you want to get it right. Download my FREE e-book here