"We don't know where to start with telling how amazing our experience was with Mandi as a wedding celebrant. We knew Mandi already a couple of years as we always book our travels through her, but when we decided to get married, we thought of her first thing. Her passion, excitement and personality is amazing. We had no idea where to start, what to do and she guided us from the beginning till the end. She thought of every little detail and is so professional in all of it. Thank you Mandi for contributing to our perfect wedding day. We will definitely refer you to others."

Debbie and Franz

 

"Thank-you so much Mandi for the incredible job you did on our amazing wedding day From the very first moment we approached you regarding our wedding plans, you were nothing but friendly, warm, genuine and patient with us. You listened carefully to all of our details and were not afraid to suggest alternatives to plans that were potentially difficult. You guided a very nervous couple through all the legalities and logistics with a very calming and reassuring manner. You took away so many of the stresses that accumulate in the planning a wedding and always had a smile for us no matter how many questions we asked or how crazy our nerves became."

"On the big day itself, you showed an amazing level of professionalism and control over the proceedings, but never lost that warmth and sincerity that helped make the whole experience fun and enjoyable.

Thank-you so much once again Mandi. Our day would not have been as special if you were not involved. You made our wedding day such a fun and exciting event when it could have been totally nerve-wracking.

I would have no hesitation in recommending you for any celebrant requirement. Hopefully we'll be in touch with you again soon for a baby-naming ceremony!"
Matt and Kylie Thomas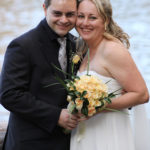 ---
Very warm, communicative & open. Totally engaged in providing us a personal ceremony, keeping everyone in the party up to speed on happenings and guidance. Very happy & most importantly – very married!
Diz and Barry Kotoul
We have had fantastic feedback about the wedding, and everyone commenting on how intimate the whole thing was. Thank you again for all your help and patience with us, we are so happy everything went so smoothly.
Chantal & Rhys Challenger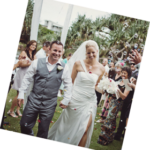 ---
Dear Mandi,

I wanted to write and thank you for making our wedding day so special. As soon as Paul and I decided to get married I knew I wanted you to marry us.

From meeting you previously I already knew that you were a genuine and warm person who cared deeply about making wedding ceremonies special for couples. I was not disappointed!

From our first meeting I was made to feel relaxed as you guided us through the process and explained everything so clearly to us. We had lots of questions and you had all the answers! I was most impressed by your attention to detail in

the ceremony to ensure it was modern, paid attention to equality in a marriage but was also individual and creative in its design.

As a result I was very proud standing in front of my family and friends getting married in a way which was respectful of everyone who was a part of it and will continue to be a port of if as we move forward in our married life.

When we had our rehearsal again you guided us gently and made sure everyone knew what they had to do on the day.

It made me stop worrying about slip ups or disasters because again you reassured us that you had everything under control, whatever happened!

Our ceremony was beautiful, a memory etched forever as a ceremony as individual as we are as a couple and now as a blended family. Our girls cried as they listened to vows that promised to love and support them always. I think they were overwhelmed by being so included on our wedding, helping them see how important they are to who we are as a couple.

Mandi, words will never be enough to say how delighted I was with everything you did to make our day as special and meaningful as it was. I will be grateful to you forever for your kindness, thoughtfulness, your attention to detail and for making us feel so valued and honoured as a couple.
Jay and Paul Ellul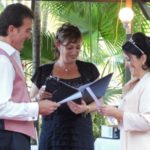 ---
"You made our day perfect, lighthearted and loving. Enjoyed every moment."
Megz and Ash
Wedding Ceremony
---
"Very personable, great friendly genuine personality, charming honest and easy going. Thanks for the gift, a lovely touch."
Damian and Jodie McAvoy
---
"Very professional! We are so honoured that we had you as our celebrant. You gave us the courage and reassurance that was needed. We felt comfortable with all your help and advice, wouldn't ask for anything more! We have already recommended you to others!"
Sharna and David Davis
---
"Thank you so much for a beautiful ceremony and a beautiful day. I could not have chosen any one better than you to renew our vows with, you truly are WONDERFUL and thanks for everything that you helped me with. I could not have done this without you."
Julie and Shaun Pardon
Renewal of Vows
---
"The whole thing was done very professionally and you certainly made us feel that it was as important to you as it was to us……….thanks very much."
Grahame and Wilhelmina Brook
25th wedding anniversary renewal of vows
---
"Your patience was truly appreciated at Mikaylas naming given the delays we had. Everybody there loved the ceremony and gave us great feedback."
Kate and Kent Osborne
Baby naming
---
Dear Mandi,

Thank you so much for making sure our wedding day went so smoothly & presenting a beautiful ceremony for everybody.

We are so happy we chose you to marry us!

Lots of love,
Emma and Mick
Wedding