Renewal of vows, Commitment Ceremonies & Reaffirmations
These ceremonies are absolutely beautiful! There is nothing lovelier than two people wanting to show their love to each other, to celebrate many years of married bliss, or to commit to each other without the legalities.
I treat each ceremony the same way as I do a legal wedding. Just because there is no additional paperwork, does not diminish the importance of the occasion , so as with every ceremony I perform, I will ensure that your celebration is personal, of high quality, and delivered with reverence and style.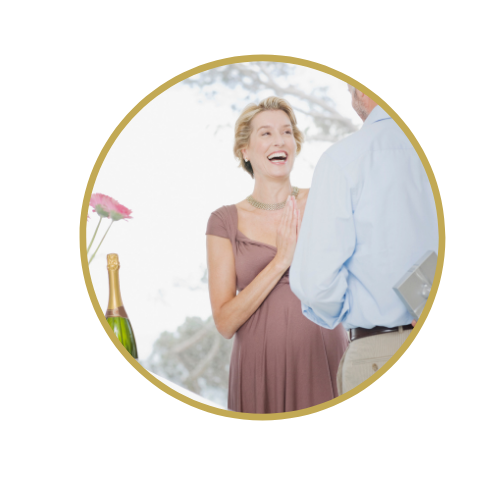 Renewal of Vows Format
Introduction
Celebrant:
Welcome to the guests. An introduction to create the mood for the ceremony, perhaps touching on the relationship and the strong bond that exists
Reading or poem:
Celebrant:
The couple will choose something special to be read, or perhaps write their own
The asking:
Celebrant:
Use this moment to thank each other for the time you have shared thus far, and ask for this to continue
The vows:
Couple:
Repeat your original vows and renew them, or perhaps write new ones
Ring ceremony (optional):
Couple:
The exchanging of rings or suitable gifts, with some personal words by the couple to each other
Final reading, poem or song:
We have many poems and readings to chose from, or perhaps a family member or child can say something or sing a song
Optional rituals:
There are many kinds of symbolic ceremony rituals that can be incorporated into the ceremony. These can symbolise the bond between the couple, may have significance to certain events etc
Confirmation of vows:
Celebrant:
Congratulate and comment on the importance of the ceremony
Signing of the certificate:
Celebrant:
I will ask the guests to stay seated while the certificate is signed
Conclusion:
Celebrant:
Confirm the partnership and ask the couple to once again kiss as partners for life