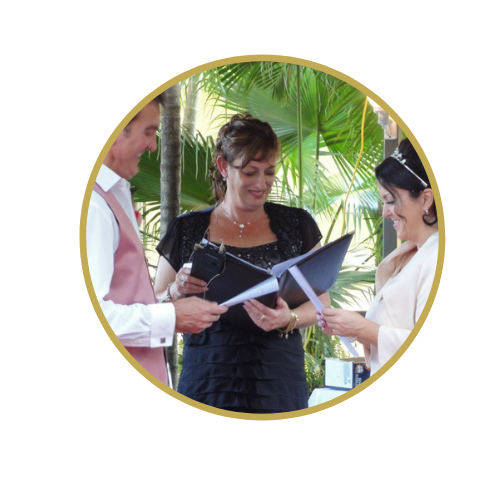 Please contact me to arrange an obligation-free consultation, for more information, or to reserve your ceremony.
So what does a celebrant do, and what is included in the fee?
Please remember, Celebrants have to pay for their own office equipment, annual registration and insurance, stationery, PA equipment, wages, compulsory celebrant training and other sundry expenses.
There is so much that goes on behind the scenes in all areas, be it business wise or personal, to ensure our couples have the perfect ceremony. It isn't just the meetings and turning up on the day – there are many hours of work involved, so it is important that you choose a celebrant based upon quality of service rather than price.
When you think of the importance of the role of the celebrant and the impact they can have upon your celebration – this calls for a high standard of work.
The celebrant will cost you more than the cake but usually less than the flowers. More than the limousine but less than the photographer … To have a civil ceremony, you need a civil marriage celebrant. Your celebrant is without doubt one of the most important investments you will make to ensure you both remember lovingly and forever, the beautiful act of being married to each other
The memory of a good …or bad celebrant will stay with you forever.
You will find a lot more information about what is involved, fees etc on the below link
Booking fee
A non-refundable booking fee of $150 is required to hold the date and time, and confirm your ceremony. The balance of the fee is required to be paid at least one week prior to the ceremony.
Refund policy
The booking fee is non-refundable. Should you cancel your ceremony part of the balance of fees paid (up to 100%) may be refunded depending on the circumstances and the amount of time already spent on preparation.
Fees
There are no set fees for civil ceremonies. There can be a huge variation on the fees charged by some celebrants, some may be less, and some celebrants charge a lot more than I do.
A cheaper ceremony may not always be value for money, as it may reflect the amount of time and effort put in by your celebrant. I feel that my fees represent value for money, considering the amount of time I will spend on
The fee will depend on where your wedding will be and the travel involved. There is no difference between a "small wedding with hardly anything in it" to a full blown ceremony! I do have a legals only elopement package though if you really do not need anything else. My prices can be found here
Terms and Conditions
Normally we don't like to put in boring bits but it's the little things that matter isn't it? Please consider the environment, think of those polar bears on YouTube and don't print this unless you really need to.